Ordering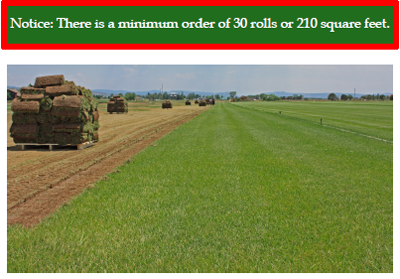 You'll need to determine the amount of sod you'll need. Sod is sold by the square foot. Take a look at the Kentucky Bluegrass page for surface preparation instructions.

Feel free to give us a call to check current pricing.
Sod is cut into 7 square foot strips (18"x56"), rolled, and stacked on a pallet.

Call in your order at 970-247-1055. We'll schedule a time for pickup that's convenient for you. Third party delivery can be arranged for larger orders.
Come by the farm during your pickup time. Payment is processed at this time. Cash, local check, and credit card are all accepted.
Transportation Information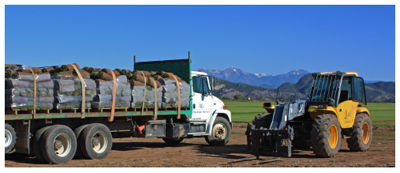 Pallets will fit between the wheel wells of a pickup truck. However, only trucks with at least a 1 ton suspension can safely carry a full pallet.
Pallets are loaded with a forklift equipped with a telescoping boom which can reach up to 15' from the end of a trailer, allowing for the loading of high-sided and long trailers.
A $10 pallet deposit will be refunded when the pallet is returned to the farm.
Sod Weight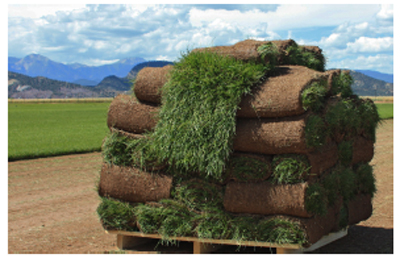 Please check your vehicle's maximum carrying capacity before attempting to transport sod.
Sod usually weights about:
5 lb per square foot
35 lb per roll
2400 lb per pallet